Healthy View
Several students within Burke County Public Schools were given the chance to travel through the human body in a new and interactive way Thursday.
The N.C. Cooperative Extension in Burke County is partnered with North Carolina State University and North Carolina A&T University to bring educational opportunities to communities throughout the state.
To help students understand different functions of the body and different ways of being healthy, the "Speedway to Healthy" interactive exhibit was brought to the Burke County Fairgrounds for students to experience.
"They are getting to interact with the physical props that they have and they make it fun," said Karen Breedlove, a third – grade teacher at Forest Hill Elementary School. "We are learning about the body in science (class) and so this is an extension of that , too."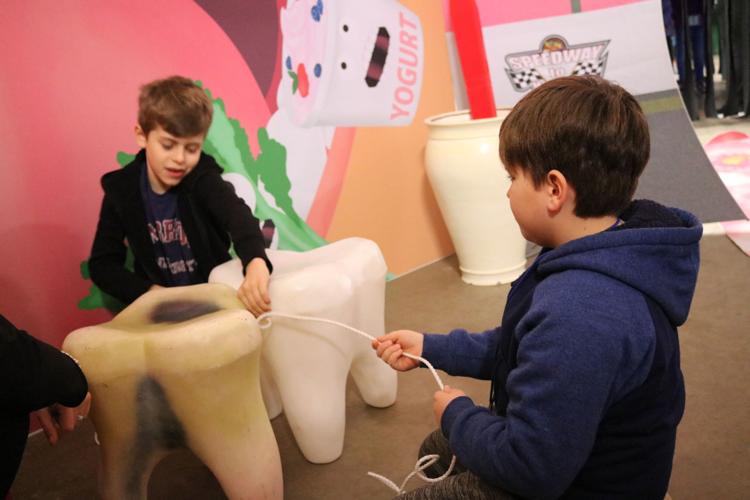 The exhibit, made of metal beams with fabric layers, resembles a maze and has several different sections that spotlight different body parts and functions. At each station , students were greeted by a volunteer from either the N.C. Cooperative Extension in Burke County or Carolinas HealthCare System Blue Ridge that spoke to them about how our eating habits affect our body.
Students were able to walk through the exhibit and talk about topics such as the brain, mouth, stomach, intestines, heart, lungs, kidneys, bones, muscles and skin. Many of the sections had props that showed functions of an organ in the body to help the students visualize what was happening inside them.
Melissa Munday, with CHCSBR, spoke to students about how eating certain foods can affect your teeth and mouth. She went over proper ways to brush and floss teeth and showed students the amounts of sugar in several different types of sodas.
Having sugar in small amounts is preferred, Munday told students in Breedlove's third – grade class.
The exhibit gives students and teachers an alternative to learning in the classroom.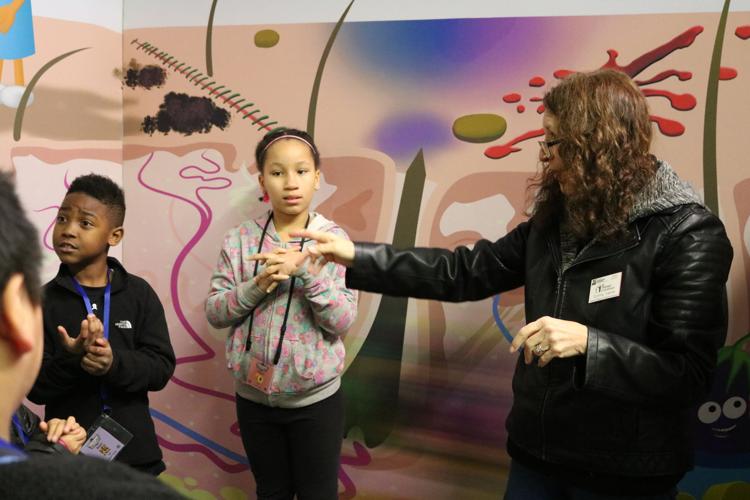 "I like that the stations are each short and that it keeps moving because their attention spans are sometimes not really that long," she said. "I think it was great and I was very impressed."
I think it is the interactivity of it that keeps their attention, Breedlove said.
Next students traveled through the esophagus into the stomach where they were given names of foods such as hamburger or fruit juice to place into a three different buckets labeled either "Go, Slow or Whoa." Those three choices represented how often the foods should be eaten.
Groups also learned how too much unhealthy foods can clog arteries in the heart, how smoking can damage lungs and how the kidneys have the ability to filter out the bad foods from the good.
"This (exhibit) is meant to combat childhood obesity and do it in a way that is more interactive than just sitting in a classroom," said Emily Troutman, the family and consumer sciences agent with N.C. Cooperative Extension in Burke County.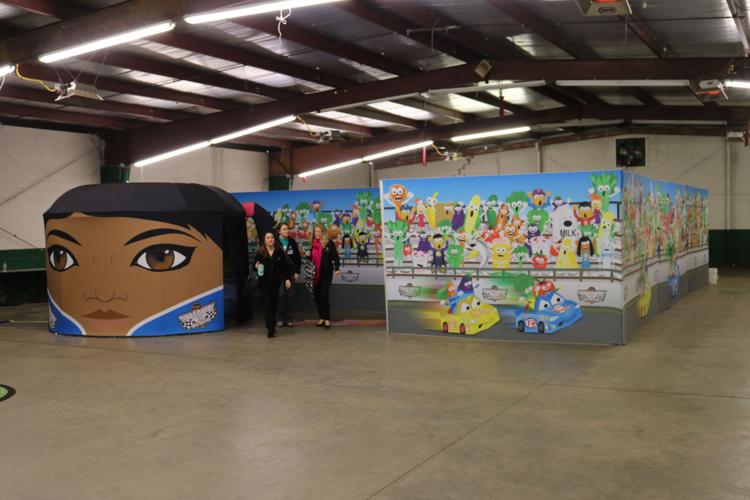 In an assessment by the Burke County Health Department, obesity and diabetes were some of the top issues in Burke County.
"I am a firm believer that if you can start good habits as a young child and get exposed to these things that may be they are not being exposed to at home … than it is something that will stick with them into adulthood," Troutman said.
The exhibit provides common core requirement for this age group in the subject of nutrition, Troutman said.
"Some teachers like to do this as part of their nutrition segment," she said.
The exhibit continued with lessons about how to keep bones strong by consuming calcium and how to gain muscle by eating protein. The last section, taught by Cynthia Vance, was about skin care and explained the types of food that help skin stay healthy
Students from Forest Hill, Salem, Hillcrest, Glen Alpine, George Hildebrand elementary schools , as well as North Liberty School , all have or will have the opportunity to experience the exhibit.